Powerful on insects
Gentle on skin

Odourless, DEET-free, non-toxic long-lasting protection against mosquitoes, flies, lice and ticks.
All Gurkha Protec repellents have the same powerful protection but the different formulations allow you to choose how often to apply. The aerosol protects you for up to 10 hours, the Active and Tick repellent spray protects you for up to 8 hours and the lotion protects you for up to 6 hours. Perfect for protecting all the family for active travel, family holidays and daily use.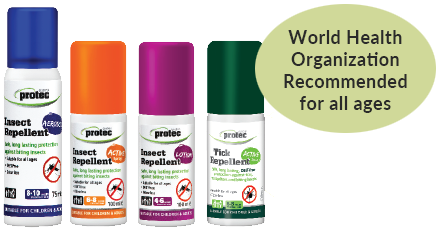 Gurkha Protec Active Spray is one of only a few insect repellents to be registered in the EU for Tropical Use.
As the climate changes, insects carrying insect-borne diseases have also become more threatening in European countries that were previously thought to have been too cold. A small insect bite can be the start of a serious disease such as Malaria or Leishmanaissis.
IR3535® is the active ingredient in all our insect repellents (known as ethyl butylacetylaminopropionate [EBAAP] to scientists) and it quietly keeps its promise. If you're looking for a highly effective DEET-free product, Gurkha Protec Insect Repellent is an excellent option giving up to 10 hours protection day to night.
Gurkha Protec IR3535® insect repellents shield you without harming your health or the environment.
Aerosol Spray (8-10 hours protection) 75ml & 150ml
This is a light, aerosol spray that is quick drying, very long lasting and perfect for occasions where reapplication is not easily available (such as trekking and day trips). Apply up to 3 x a day for adults, twice a day for children and just once a day for infants. The aerosols are currently available throughout europe (but not in the UK).
Active Spray (6-8 hours protection) 100ml
This is a light alcohol based formulation that is quick drying and non greasy. It is odourless and doesn't overpower perfume. Our active spray has been tested on Tropical insect so is effective in Tropical areas against local mosquitoes. Apply up to twice a day for children and just once per day for infants.
Active Lotion (4-6 hours protection) 100ml
A moisturising cream based pump formula that is excellent for repeat applications during the day and for use on evenings out. We recommend applying no more than 4 times a day for children under 10 (and avoid applying to their hands).
Tick Spray (4-6 hours protection) 100ml
An alcohol based spray formula that is quick drying, non greasy. Apply to exposed skin when out in open countryside and woodland areas. Application as Active Spray.