Tick-borne diseases are on the increase

Use Tick Repellent for all activities in woodland, parks and countryside
Many experts regard the tick as 'one of the most dangerous insects in Europe. The majority of ticks are harmless but sheep and deer ticks, found in long grass, woodland and open countryside, can transmit the serious Lyme disease to humans and climate change is a contributing factor to growing numbers.
Warmer weather changes our behaviour and we are more likely to enjoy being outdoors, wearing less clothing. Taking part in activities such as walking, yoga, Tai Chi, archery, clay pigeon shooting, camping, Duke of Edinburgh award treks or simply having a picnic all leave us vunerable to tick bites. IR3535® is the active ingredient in our insect repellents and it was developed more than 30 years ago. Since then, it has become an established ingredient for protecting you and your family against ticks, and other bugs that you come across when you are participating in outside activities – and one of the best things about IR3535® is that it shields you without harming your health and is non-toxic to the environment.
Lyme disease often shows up as a red rash around the tick bite with flu-like symptoms such as high temperature, feeling hot and shivery, headaches, muscle and joint pain. Left undiagnosed, Lyme disease can result in serious neurological and cardiac complications and major surgery.
The former England rugby captain and presenter of Question of Sport, Matt Dawson was bitten by a tick in a London park. After multiple heart operations and 18 months of treatment, Matt no longer has the disease. But it still affects his life: "I'm still on medication and its going to take a lot of time for the heart to fully recover".
Lyme disease is not notifiable by medics so whilst the confirmed cases in 2017 for England and Wales was 1,500, the true figure is most likely nearer 3,000 cases (Pharmacy magazine Sept 2019) and Healthcare EU states that this figure may well have been up to 8000 in 2019.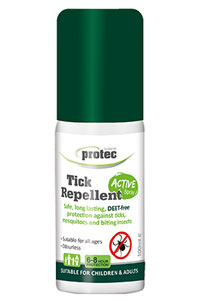 Apply Gurkha Protec Tick Repellent to all exposed areas of skin. If walking anywhere in long grass, we recommend wearing long sleeved tops and tucking long trousers into socks to prevent a tick being able to crawl up the leg.
Odourless, quick drying and non-greasy Use on all exposed skin for 6-8 hours protection Suitable for ALL ages (including babies). Also contains Aloe Vera to soothe and Vitamin C to nourish skin